Don't we all love Mexican food? I've yet to meet someone who doesn't. The country south of Texas has numerous dishes that are popular with fans, including tacos, burritos, Frijoles y Arroz, and much more. This week, we will be sharing this easy fajitas recipe, a popular and delicious dish in Mexico. Chicken fajitas don't need a complicated recipe. With juicy, marinated chicken breasts and the addition of bell peppers and onions, you can prepare a tasty midweek dinner.
You will need
2 large chicken breasts
Bell peppers (colour of your choice)
Red onions
Olive oil
lime
Hot sauce (optional)
Step one
In a bowl mix 3 tbsp of Fajita seasoning, a tsp of hot sauce, 4 tbsp of olive oil, the juice of a lime, and a pinch of salt and pepper. To prepare the chicken, slice it into strips and put them in the bowl. Slice your peppers and onions into long thin strips, add a pinch of salt, and set them aside.
Step two
Heat a griddle pan until it is smoking hot. Add the marinated chicken to the pan. Keeping everything moving over high heat for roughly five minutes will ensure the chicken ends up nicely charred.
Step three
Remove the chicken from the pan and set it aside. Place the chopped pepper and vegetables into the pan (with a tablespoon of oil) and sauté until the onion strips are soft and the peppers are browned. Add the chicken into the pan again and stir together until the flavours and seasonings are combined.
*Pro tip 1: Avoid crowding the pan while cooking the chicken and vegetables so that they develop a charred look. If your pan isn't big enough you can cook it in two batches.
*Pro tip 2: To check the chicken is cooked, find the thickest part of the chicken and tear it in half. If any part of that strip is raw, keep cooking until it is fully cooked.
Step four
Toast the tortillas in the pan and serve. Serve it with any toppings of your choosing, such as guacamole, avocado, lemon, sour cream… the choice is yours to make it a wonderful, delicious, and luscious dinner.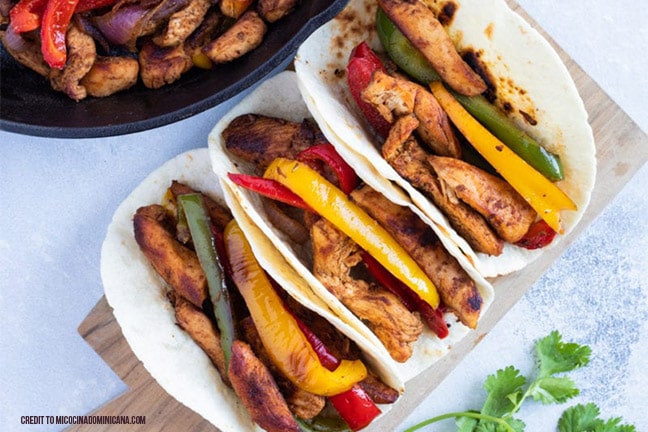 ---
We hope you've enjoyed our easy dinner-night fajitas recipe. We encourage you to try it and let us know what you think about it. A special thanks to BBC Good Food and Mi Cocina Dominicana for inspiring this dish. Make sure you check our blog for more recipes and, why not, follow us on Instagram.