Get snacking with Takis this Christmas!
Takis Fuego Corn Chips 55g
Get yours now!
Brand
Takis
Since its creation in Mexico in 1999, this corn treat has been sweeping America and the world. Takis, which was originally called Taquis, was first introduced to the USA in 2004. Takis was originally meant to appeal to the Hispanic demographic of the snack market but soon spread to American youth who are enthusiastic about the taste of Mexican food.
Takis are small, slightly thick tortilla chips rolled into cylinders. In the world of spicy snacks, Takis (or "Taquis") are the benchmark of that super sharp, wince-inducing lime flavour. The heat component is good, and the tang complements it well.
Americans Food Mart brings Takis to the UK, and they're ready to be purchased by residents in Britain, Ireland, and Europe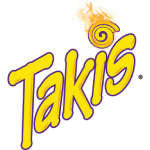 Hot Sauce
Product and delivery as promised. Will definitely order again.