Crystal Louisiana Hot Sauce 88ml (3oz)
Texas Pete Hot Sauce 177ml (6fl.oz)
Brand
Crystal
Crystal Hot Sauce was established in 1923 by Alvin Baumer, a recent immigrant from Germany who bought a sno-ball syrup manufacturing company on Tchoupitoulas Street called Mill's Fruit Products with a personal loan from his father-in-law. The company strives to create the best tasting products in the market with only the best ingredients worth sharing. They deliver the best-tasting quality creatively and unconventionally.
The sauce has a reddish-orange appearance with a medium heat level and has a prominent dark Chile flavour and a slightly subdued vinegar taste.
At American Food Mart, we offer two different versions of Crystal Hot Sauce, in different sizes.
So, if you want to treat your taste buds to a spicy, acidic, and delicious sauce, pick up a bottle of Crystal Hot Sauce!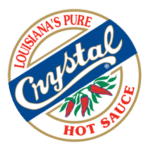 Texas Pete
The tasty, spicy Texas flavour, packed into a bottle, ready to improve any dish you decide to put it on. While mild in spiciness, it has a great balance between fresh chilli pepper and vinegar making it a fantastic sauce for your stakes, fries, rice, and anything you can imagine.
In the United States, Texas Pete is produced by the TW Garner Food Company in Winston-Salem, North Carolina. With bottles of 6, 12, and 24 ounces, the brand features bright red sauce, a flip-top, a white and yellow label featuring the name in red and a silhouette of a cowboy in red.
Get your Texas Pete sauce today and enjoy the flavours of this American product.