Funyuns Onion Rings 163g (5.75oz)
Pepsi Wild Cherry 355ml (12 fl.oz)
Crush Orange Soda 355ml (12 fl.oz)
Brand
Crush
Over 100 years ago, the recipe for Orange Crush was created. It was originally named 'Ward's Orange Crush' after the recipe developer, Neil C. Ward. It prides itself on being 'the first orange soda' and has been loved by consumers ever since its launch!
Today, however, the brand and trademark are owned by Keurig Dr Pepper, a company in Texas. Although it is also distributed in Canada by a subsidiary of Canada Dry Motts.
Since its humble launch, the brand has created well over 40 different flavours! They have plenty of fruity flavours for you to treat your taste buds to. Apple, Banana, and Berry Blast are just some that you can try. Not to mention, they also do more exotic drink flavours. Why not give Chocolate, Ginger Beer, or Red Liquorice a go if you're feeling fancy?!
The brand continues to wow consumers today, so no matter what you try, we're sure you won't be disappointed! Have a browse below and find your favourite today!
Funyuns
Funyuns are onion-flavoured corn snacks. First sold in the United States in 1969, they were invented by Frito-Lay employee George Bigner. Funyuns are made from cornmeal and shaped into rings by extrusion to resemble fried onion rings. They are flavoured with salt and onions.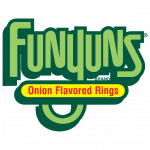 Pepsi
In 1866, a pharmacist in New Bern, North Carolina created the first Pepsi-Cola. To generate the same success as Coca-Cola, Bradham named his cola-flavoured carbonated beverage Pepsi-Cola in 1898. Pepsi-Cola's popularity led Bradham to incorporate the company in 1902. The late 1970s and early 1980s are the years when Pepsi gained popularity among young drinkers.